Producing Long-term Results
Posted Aug 28, 2017
In April 2017 we hosted a team from Canada. Their main project was to renovate the homes of the farmers that live on the property. This was a blessing to the farmers because they have families with small children. We appreciate them for working above and beyond to make sure we are yielding produce as we should, and were happy to bless them with the help of our supporters.
The team also visited a rural community where many young children and caregivers reside, and gave them gifts and encouragement. They took some time to do community visits within the areas surrounding the Mercy Touch property as well, where they participated in handing out microloans to women as a way of empowering them. Aside from these activities, the team spent time with the staff, volunteers, and children of Mercy Touch and blessed them through interacting and bonding with them.

Our most recent intern, Naomi Hunter from the UK had a wonderful experience serving with the ministry. With her enrolment in a Digital Media degree program, she has gifted the ministry with a special project that creatively portrays the work of Mercy Touch and the lives of many individuals in Ndola, Zambia. Naomi's project has since been published and will soon be distributed. She was greatly inspired and overwhelmed by the works of Mercy Touch. A blog written by Naomi about her experience can be found on the website.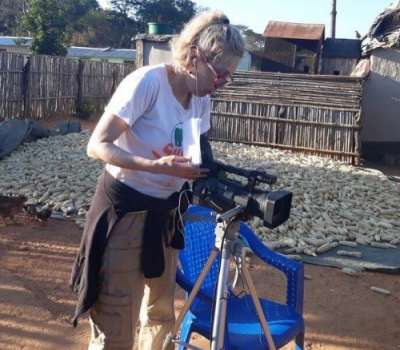 In June we also had the privilege of hosting Kris Depowski, a Journalist from Buffalo, NY, USA. Her main objective was to create content to make a documentary on Mercy Touch that can be showcased in order to inform people all over the world and raise awareness about the ministry. She hopes to return to Mercy Touch one day to do some voluntary work and spend more time with the children. Stay posted on our website and social media pages for the soon-to-be-released documentary!
In September of 2017 we will be welcoming another volunteer by the name of Kimberleigh from British Columbia, Canada. She will serve with the ministry for 6 months. Kimberleigh will be working primarily with the children in the homes to contribute to their development, as well as minister to the children and youth supported by Mercy Touch.
In June, Mercy Touch hosted a concert event in Zambia to encourage the younger generation not to lose hope, but to remain focused on Christ and God's calling on their lives. Several well-known worship bands led the congregation in worship, and words of encouragement were shared by Dr. Bernard Mukwavi. The night was a success and a blessing to all!
All programs and projects are running as usual. The children remain enrolled in their respective schools. We continue to encourage and fund business ventures that will help graduated children gain independence. A few of our graduate children have already launched small businesses with the help of our supporters. We remain hopeful that this new initiative will produce long-term results. Our pressing prayer is that God will provide us with the right human resources to help keep our ministry expanding as well as operating at a standard that will yield successful outcomes.
As the year is moving by quickly, we remain focused on God's direction for the future. We have been blessed to have so much support for the ministry. Thank you for your prayers, donations and continuous encouragement. Please remain updated on our website and social media accounts for more updates.
Mercy Touch