Nothing Ventured, Nothing Gained
Posted Apr 2, 2017
We hope that you are all doing well in 2017. There are many changes and ventures that we are pursuing this year in Mercy Touch.
Change is good
A significant change in Mercy Touch is the function of the longest serving housemother, Mama Regina. She has recently transitioned into the area of serving the surrounding community, but still works under Mercy Touch. Her role will consist of community outreach and community visits, as well as mentoring and supporting the girls from the Girl Project.

Mama Regina is also the head of the tailoring project at Mercy Touch, which is training individuals to pick up the skill of tailoring in order to sustain themselves. Those enrolled in the program have started making creative crafts, such as: doormats, school jerseys, and handbags. Additionally, they make necklaces with beads. The skills will be extended to the girls from the Girl Project as well as the women from the neighbouring community.
Highlights
We have launched a Saturday Market to sell items from our skill development programs and our farm produce. We hope this will help increase income generating activities. We intend to embark on various projects this year as a way of generating local funds in Zambia to raise funds and contribute to self-sufficiency. Mrs. Mary Sichula, who is a registered nurse, has been conducting meetings known as the: "Journey of Life," twice a week with the Mercy Touch girls. During these talks she facilitates discussions on the challenges of life that Zambian girls face. She encourages and advises the girls in order to guide them on their unique individual journeys. Volunteers and staff involved with Mercy Touch also continue to tutor and support all the children with their schoolwork.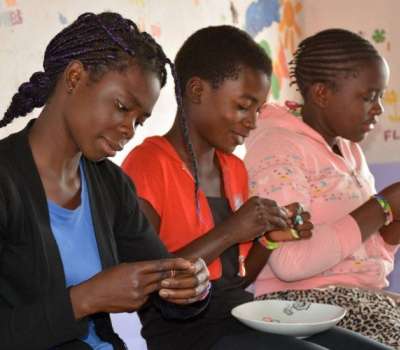 College Students
A number of children we began with in Mercy Touch have either graduated from college or are still enrolled in college. Those in college have continued to excel in their studies. One of them has advanced to his second year in studying law at Lusaka University. Another one has continued to excel in mechanic engineering, and will soon be completing his program.
We also have a graduate that has recently completed his course in Business Studies at his prior college, and is now looking for employment. Of course, we do sometimes face challenges in guiding the children in completing college. However, like every family, we seek to continue with positive parenting.
As for the remaining high school graduates, they are currently working at a local café in town called Kaylene. We are blessed to have been able to find temporary employment for our high school graduates as they figure out the way forward.
Internships
Mercy Touch gives opportunities for interns to serve in Zambia. Toward the end of 2016 we hosted an intern from Germany named Sara. She was serving primarily on the farm, but also volunteering in the homes as well. Her visit to Mercy Touch was very uplifting for everybody. She was a hard worker with vast experience and interest in farming. She was a cheerful and free-spirited person, willing to help where needed. We continue to appreciate all of the volunteers and interns that have chosen to serve with us on the ground and trust they have an enriching learning experience.
Mission Trips
We continue sending mission teams to go and work on various projects in Zambia. Mission teams are a great resource to our support as they spread the word upon their return. Most of them sign up to become Mercy Touch Goodwill Ambassadors. There will be a team going from Edmonton this April 2017 under the leadership of Sandra Butters, one of Mercy Touch Mission International's Goodwill Ambassadors. The team will work on the Mercy Touch Staff accommodations as well; as with the children and the community.
Challenges
Although there are many highlights of the work we do, we still face challenges. We hope to see all of our high school and college graduates succeed not only in theireducation, but also in finding professional employment opportunities in order to officially transition into adulthood. We hope to empower them with loans to start small businesses and enrich their work experience while they find stable employment. Additionally, we hope and pray for more human resources to help us empower and guide our children and youth. We do not want our current staff and volunteers to be overworked, and trust that God will provide the right people to serve with us.
Way Forward
We hope to utilize our missionaries, volunteers, and interns to encourage and contribute to helping Mercy Touch with the income generating projects. Currently, we are networking in order to connect with an experienced individual to speak to the staff at Mercy Touch about business entrepreneurship within the Zambian context. We hope to design a workshop that includes topics such as team building and business administration, that will be educational and enriching for all those interested in participating. We would involve the Mercy Touch older children, as well as invite those from the surrounding community to partake in the programs.
Upcoming Events
This year we hope to embark on several fundraising ventures to raise awareness and funds for the ministry. On May 19th, Dr. Ron Kenoly, a renowned international Worship Leader, Singer, Songwriter, and Teacher, will be performing in the Greater Vancouver Area. A portion of the proceeds will be donated to Mercy Touch Mission International. Feel free to check out & share the event, and purchase your ticket on eventbrite.ca!
We appreciate all of your support and prayers for us and for the children. We are more than blessed by your continual partnership and hope that you will continue being involved with us as we serve disenfranchised individuals and vulnerable children in Zambia. Through all the help we give, we also make sure they learn God's Word and grow to become responsible Christian men and women. This is not a small task, but we can do anything through Christ who strengthens us!
Best,
Mercy Touch